Hi all,
After a lot of time being frustrated by caving headlamps I can afford and wanting the ones I can't, I built my own! This headlamp uses P60 and 26mm drop-ins, so it's user upgradeable. Though it was originally designed to be a caving headlamp (and is more than tough enough for that), people who bought one use them for mountain biking, outdoor adventuring, and orienteering.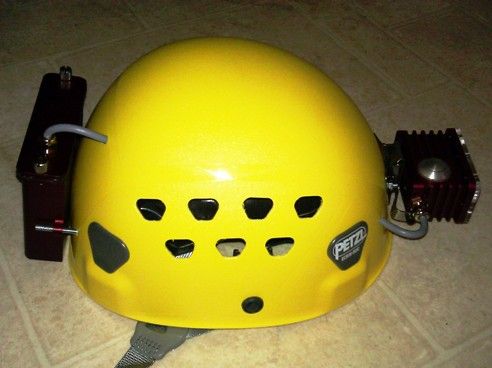 Typical drop-ins can be found all over the web, but here's a sample:
http://www.lighthound.com/LED-Drop-In_c_197.html
Details:
Made in Colorado!
body: 1.5-6mm thick machined from T6 6061 aluminum
hard anodized 2 mils thick in CPF red (twice the minimum military standard thickness)
according to SolidWorks, capable of holding 1800lbs before deforming
lens: 1/8" thick Plexiglass
switch: waterproof and dust proof to IP68x
mechanical (won't mess with your compass)
10A, 30V DC
made by a US aerospace manufacturing firm and each batch (15 at a time) of components is tested
very low resistance; no noticeable voltage drop at 4 amps
cable glands: waterproof to IP68, 5 bars
cable: fire retardant, chemical, radiation, and abrasion resistant
connectors: same as Stenlight
battery case: battery carrier inside holds 4x18650's wired for 3.7V, 7.4V, or 14.8
waterproof
machined from the same aluminum
copper clad circuit board for contacts
blade mount or aluminum bracket mount
Additional Options:
extra cables
longer cables
no battery case
battery pack (like the Stenlight ones)
less durable but larger gauge cable (for drop-ins above 4A)
extra battery carrier for different voltage (swappable)
headband
handlebar mount
All the additional options cost extra, but how much depends on what you want. If you want a complete package with batteries, charger, and drop-in, I can do that too for $280 plus shipping (usually $10)
It's heavier than a Stenlight, but lighter than a Scurion. Exact weight depends on the drop-in and mounting option.
Future Options:
I'm working on a flood module (hopefully user swappable) for the big hole that holds the switch so that you can run two LED's. It will be made to fit this model.
I'm also working on programming P60 modules. I can program them to have 1, 3, or 5 modes so far. I've not tried making a strobe yet...
Compatibility:
So far, users have run Malkoff, Nailbender, Anto, and Solarforce drop-ins in these. At amperages above 3.5A, I'd suggest the optional cable. I'm looking forward to trying a Moddoo triple in one too! With all of these heat management has not been an issue. If you wrap your drop-ins in copper tape, go easy on it; the tolerances are pretty tight.
I'll ship outside the US; it just costs a little more.
They are for sale in the marketplace.
Thanks for looking!
Kevin